Orlando is a popular vacation destination for families. Not only does Orlando offer fantastic weather almost all year round, but it also provides endless options for families and kids to have fun! If you find yourself wanting to beat the heat, Orlando offers some great indoor playgrounds that are guaranteed to have everyone excited. 
It's no surprise that places like Rebounderz provide the perfect destination for family entertainment. So get out of the Florida sun, cool off for a bit and enjoy some play time in an indoor playground. 
Benefits of Playing in Indoor Playgrounds 
Indoor playgrounds aren't just means of entertainment–they provide many benefits for kids and adults alike. Indoor playgrounds allow children to socialize, work on their motor skills, explore their imagination and allow for physical activity. 
Plus, kids (and adults) stay safe from the strong sun or other inclement weather, and activities aren't weather-dependent. There's no stress about it raining during your kid's birthday party if the party venue is inside! 
These lasting benefits go beyond playtime as they help foster new skills and experiences that are important to a child's growth.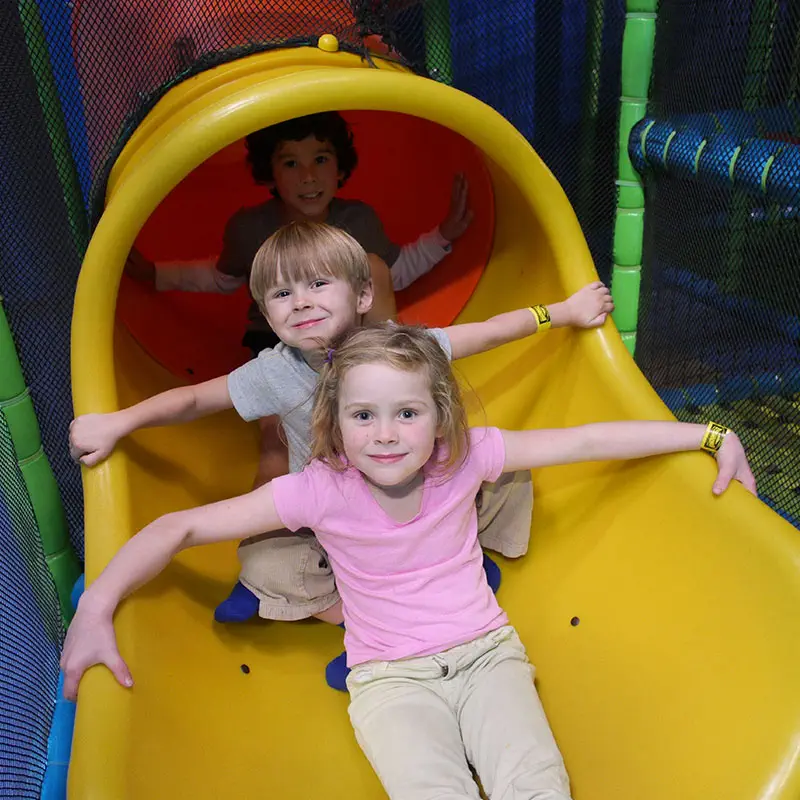 Best Indoor Playgrounds in Orlando, Florida 
Rebounderz 
Can you think of a place where you can choose from trampolines galore (including trampoline basketball and dodgeball), laser tag, foam pits, and ninja warrior courses? Or a mix of them all? At Rebounderz in Orlando, you can choose from an endless number of activities at Rebounderz to keep your child smiling all day.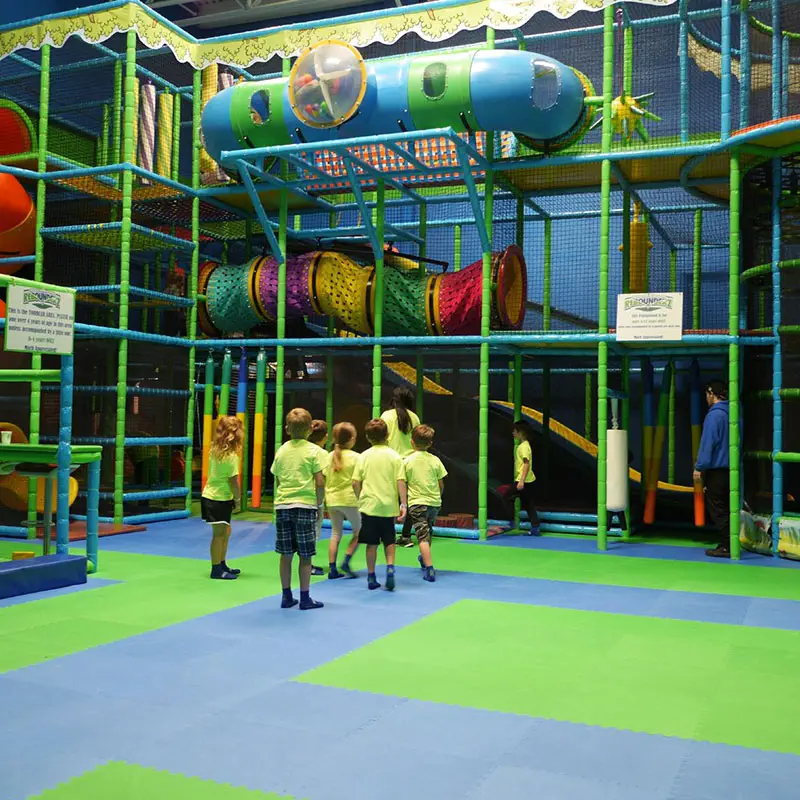 Check out all of Rebounderz affordable offerings today that your kids–and you–will enjoy! 
Rebounderz Activities
Indoor Playground: Kids will play here for hours if they could, enjoying every component of Rebounderz jungle-gym! There's so much for kids to do in their indoor playground area. Their indoor playground allows kids to play alongside other kids in a safe environment.
From slides to tunnels, there's so much to see and do. Kids will really get the opportunity to explore their imaginations with the countless activities available to them. Their indoor playground takes a unique spin on playtime. 
Plus…
Plus, Rebounderz offers a "Parent's Night Out" option, where you can drop your kids off with them while you enjoy other parts of the city Orlando has to offer!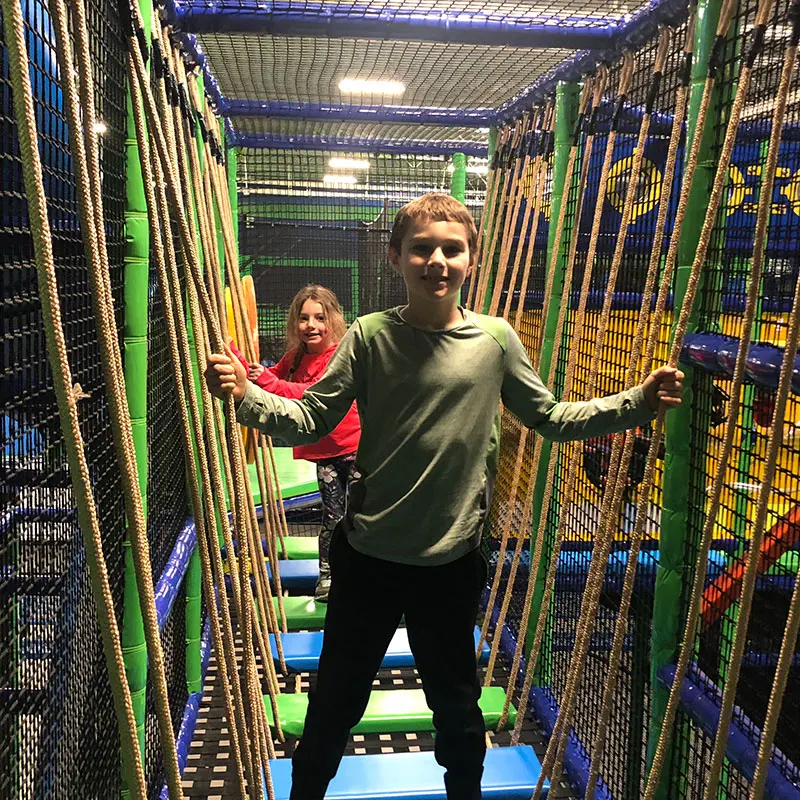 Pricing: For just $20, get an hour of access to Rebounderz indoor playground, plus their ninja warrior course, indoor trampoline area, and foam pit. Or, choose one of their other pricing options. 
Millie Moos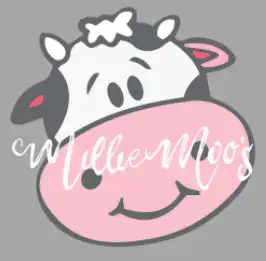 Millie Moos has your little ones in mind. This indoor playground is designed for children ages 8 and under. Socks are required in the play area so make sure you bring a pair! But don't worry if you forget because they do have socks available to purchase up front.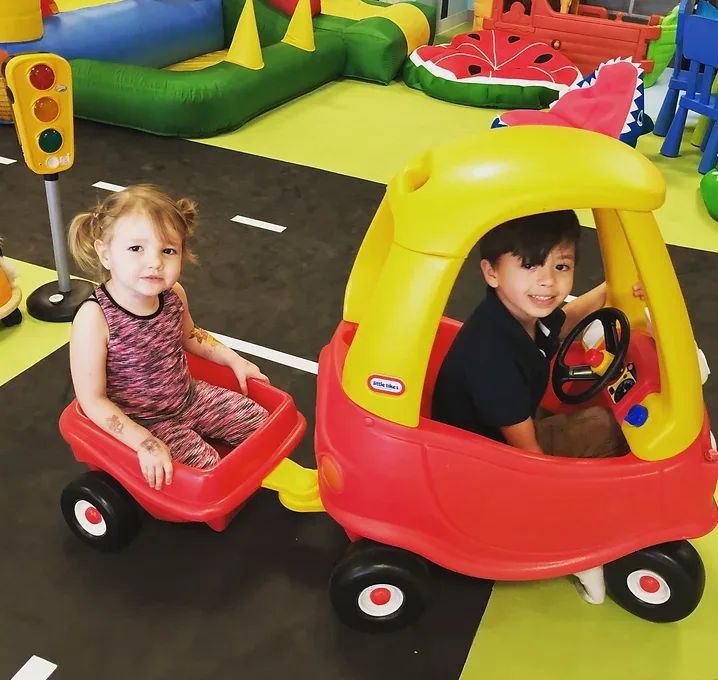 Activities: 
Indoor playground

Cafe

Birthday parties
Pricing
Monkey Joe's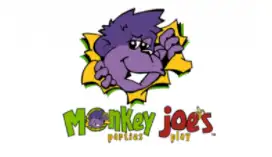 Located just 10 minutes outside of Orlando in Winter Park, Florida, Monkey Joe's offers a unique twist on indoor play time. Monkey Joe's indoor playground is completely inflatable! They also have a dedicated toddler area for your little ones, ages 3 and under, giving parents a peace of mind.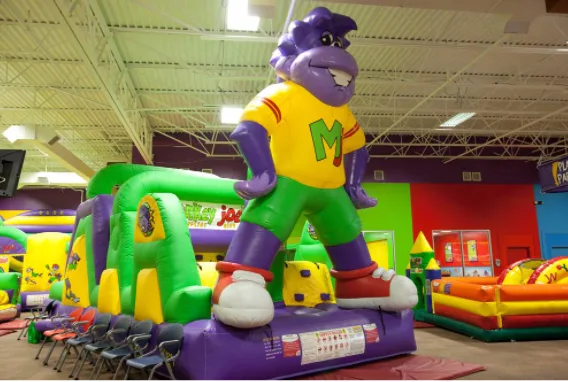 Activities: 
Indoor inflatable playground

Mini Monkey Zone toddler area

Arcade

Birthday parties
Pricing
WonderWorks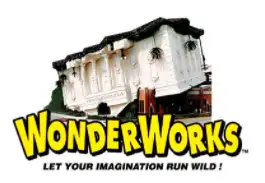 Located on International Drive, WonderWorks stands out as the iconic "upside down" building. Inside this whimsical looking building you'll find a number of fun activities to keep everyone in your group engaged.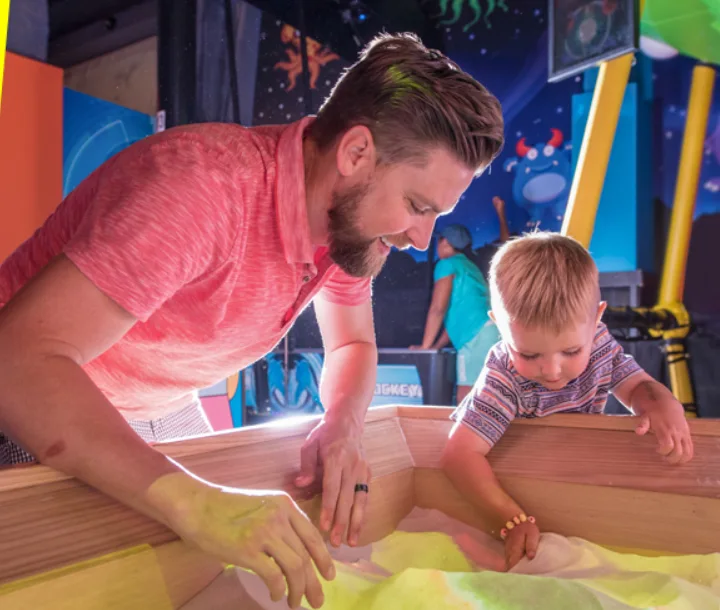 Activities: 
Pricing
Kids Play & Party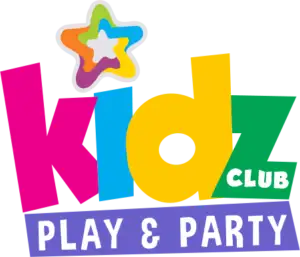 Kidz Play & Party Club takes a different approach to play time. They specialize in providing a Zumbini experience which is an early childhood development program that focuses on both music and movement for children. 
Their indoor play area has different play options, like a play house or doctors play area, that provide enriching activities that allow children to express their creativity. 

Activities: 
Indoor playground

Family workshops

Birthday parties 

Early Childhood classes
Pricing
Princesses and Princes
Princesses & Princes is a Montessori inspired indoor playground where your little ones can play like royalty. With creative play sets, like a play kitchen and market, your children can discover their imagination in style!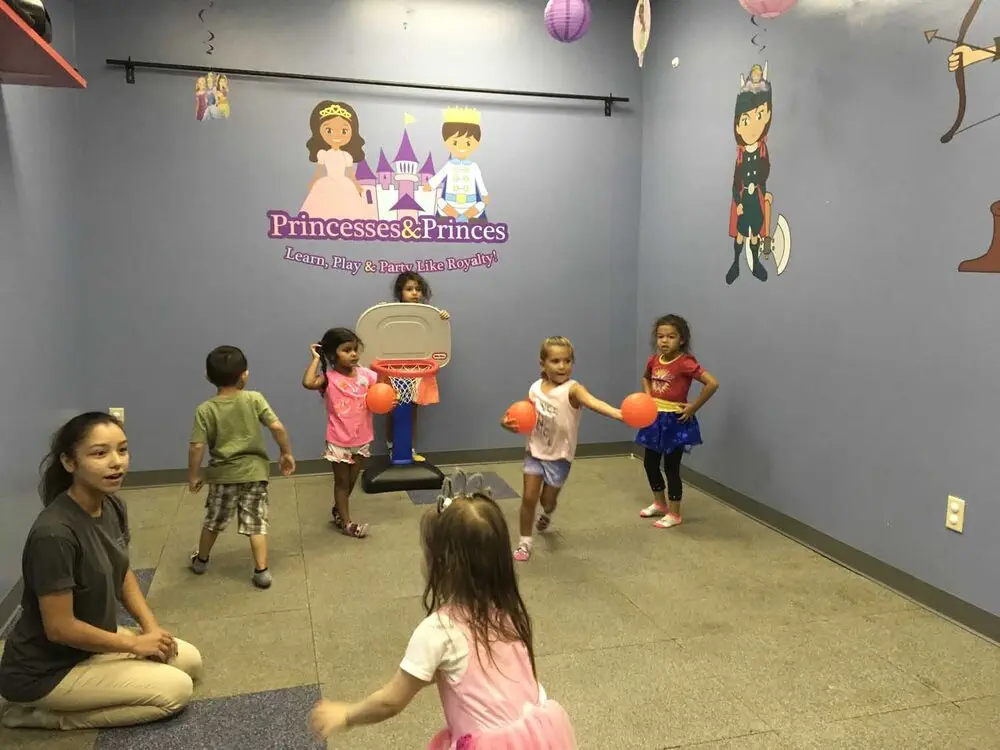 Activities: 
Indoor playground

Birthday parties

Early Learning programs
Pricing
Jungle Zone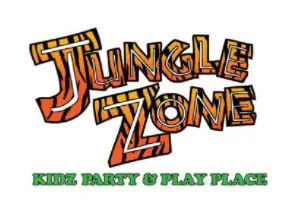 Jungle Zone is an indoor inflatable playground located in Tavares, a 30 minute drive outside of Orlando. Their colorful inflatable arena offers a myriad of options for play time, from sliding down 8 different inter-connected slides to running through their "French Fry" forest. 
Jungle Zone also offers a dedicated play area for toddlers.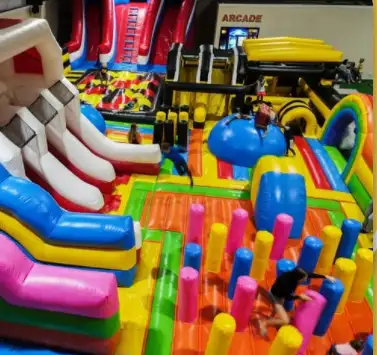 Activities: 
Pricing
Non-Playing adults are free. Adults who will be playing are $9.99, Children ages 4-18 years old are $12.99, children ages 0-3 years old are $9.99.
VIA Entertainment
In Leesburg, 50 minutes outside of Orlando, you can find VIA Entertainment located in the back of the Lake Square Mall. Their indoor playground, called the Kid's Corner, will keep your kids entertained for hours. 
If other members of your family are looking for something else to do, options like bowling or laser tag are available as well.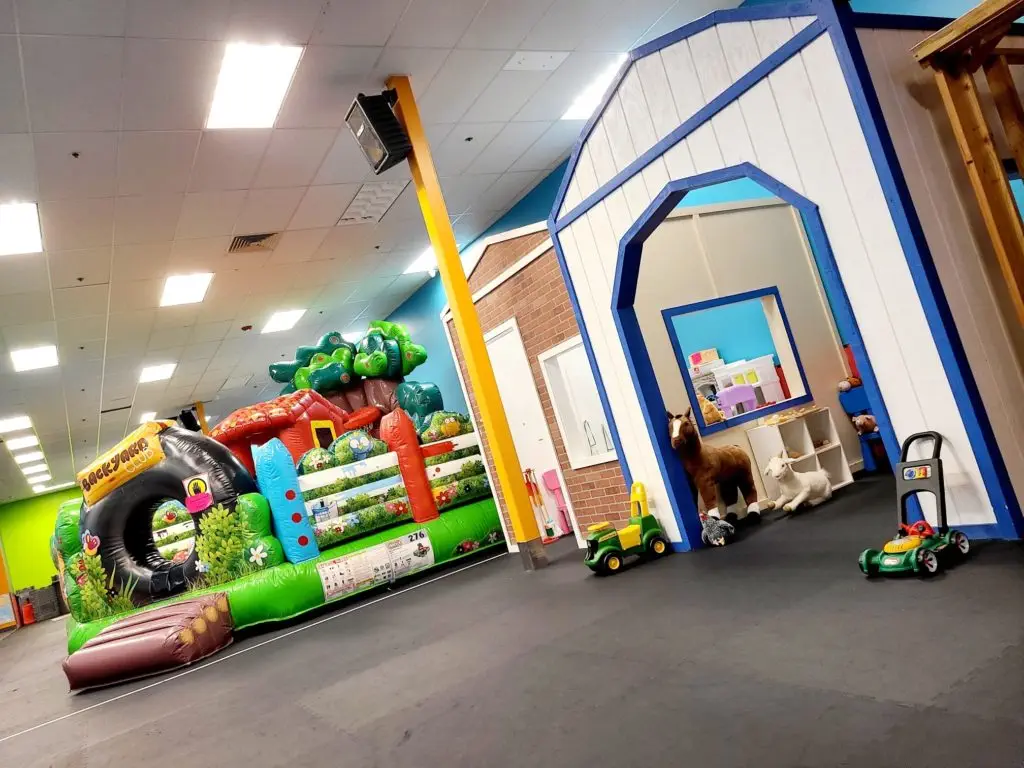 Activities: 
Pricing
Florida Mall Play Park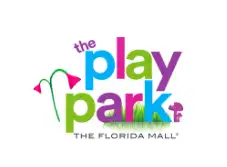 Inside The Florida Mall, you will find The Play Park, a newly added indoor playground for kids. You can stop by The Play Park to relax and let the kids play at one of the largest malls in Orlando. Their charming play area is inspired by Alice in Wonderland and Dr. Seuss, making playtime a bit more whimsical.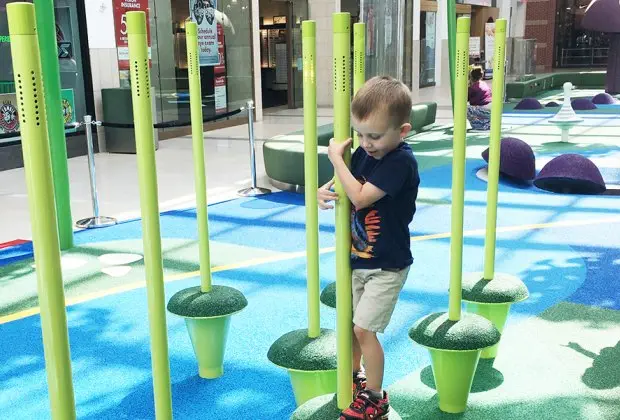 Activities: 
Pricing
District Kids 
Head on over to Oviedo, a 10 minute drive from Orlando, to District Kids for some indoor playground amusement. District Kids focuses on hands-on learning through play time with their interactive science lab to imaginative play areas like a play vet room and grocery store. 
Your children can explore their creative side and let their imaginations run wild at District Kids.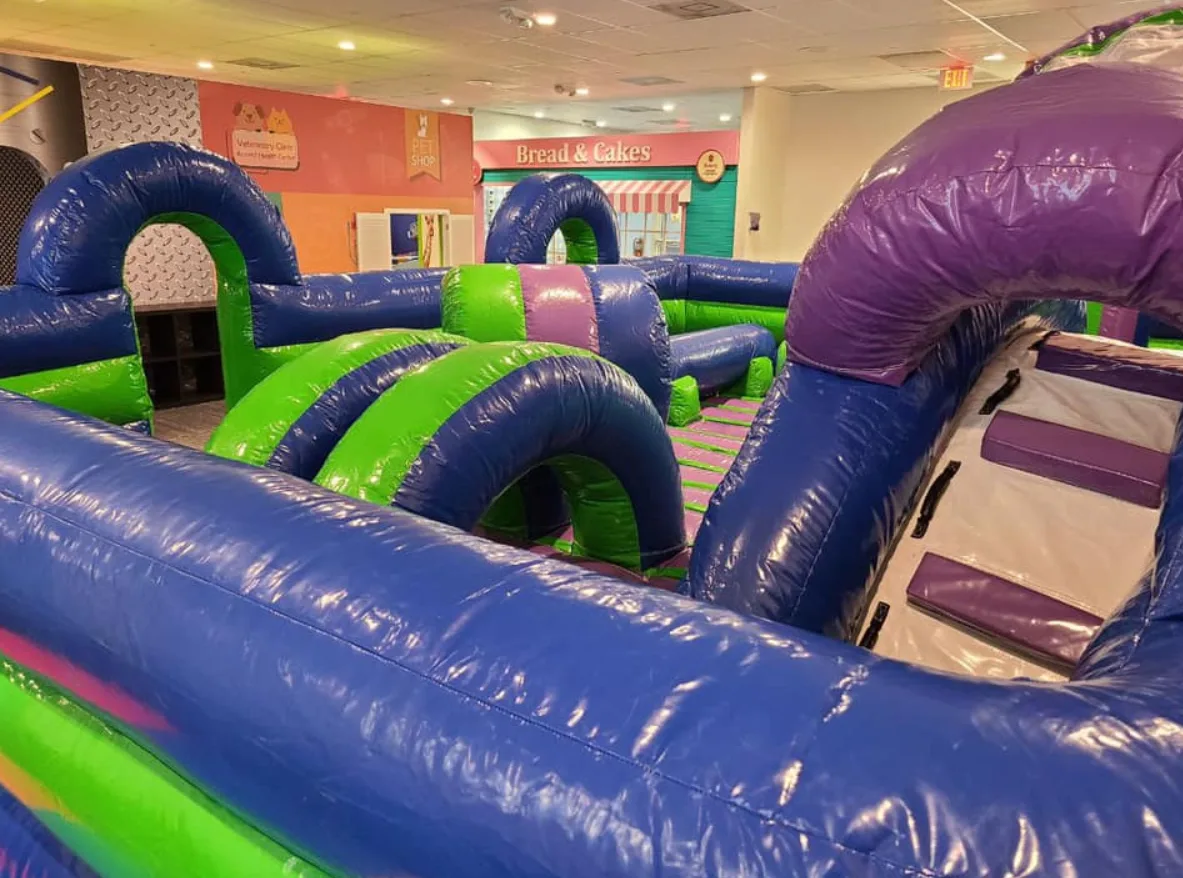 Activities: 
BEAM, virtual playground

Construction house

Play gas station and grocery store

Inflatable obstacle course 

Pet vet play room

Science lab
Pricing
Children over 12 years old with grip socks $11.00, without grip socks $10.00. 2 Adults with paid child admission are free, additional adults are $5.00. Children under the age of 12 months are free. 
Kidiverse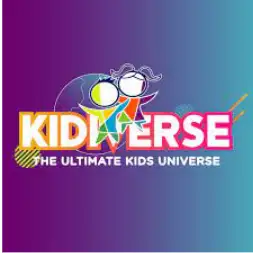 Kidiverse was created by the idea of two mothers who wanted to create an engaging and safe environment for kids to play away from TV and computer screens. Kidiverse's goal is to provide safe, physical activity with educational elements to stimulate learning and growth in kids.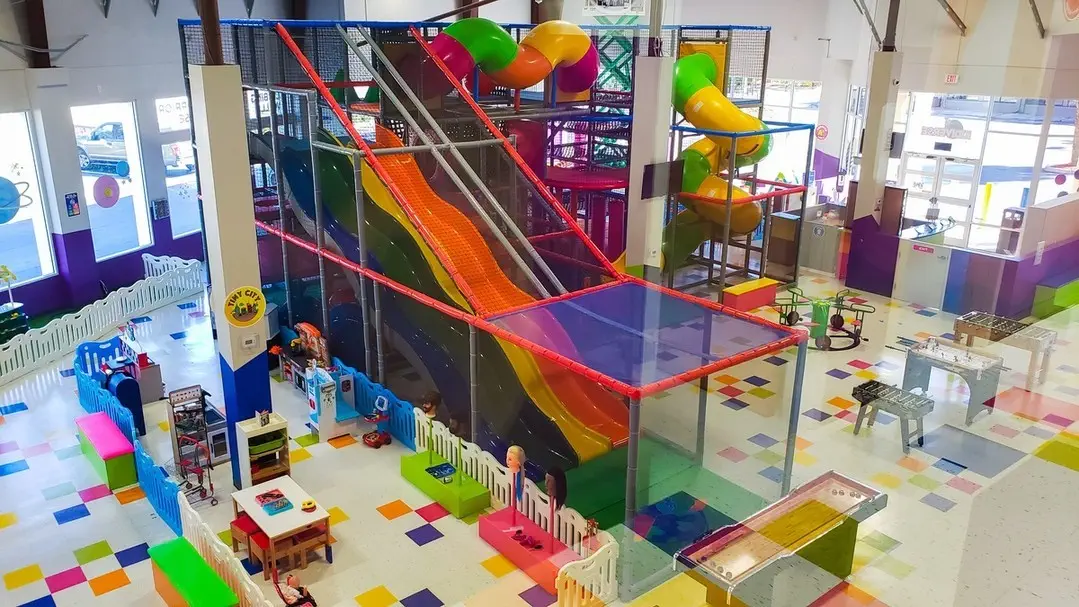 Activities: 
Indoor playground

Toddler play area

Interactive game rooms

iWall

Climbing walls

Ninja Warrior course 
Pricing
Conclusion: What's the best indoor indoor playground in Orlando?
Ready to head indoors to escape the heat and enjoy some playtime at an indoor playground? Orlando has a wide variety of indoor playgrounds but Rebounderz offers some of the best play time plus more to keep everyone in the family entertained all day long. 
Indoor playgrounds provide a safe and stimulating environment for kids to fully enjoy play time. Take the chance to cool off, have fun and bond over the unique experience that indoor playgrounds provide. 
Check out Rebounderz today to experience all they have to offer!