Whether you live in Sacramento or are just visiting, you'll find that there's so much to see and do in this beautiful city! Sacramento offers not only beautiful weather but an abundance of activities perfect for families or friend groups. 
You can hit up some parks to bask in the beautiful California sun or head inside for a number of great indoor activities that are perfect for any family. If you want to learn more about the fantastic activities that are available throughout the Sacramento area, keep reading!
31+ Most Fun Things to Do in Sacramento This Month 
With school back in session, a lot of places have fewer wait times and are less crowded. Take some time to unwind, relax, and have some fun with your kids or even your friends this month! 
This is the perfect time to hit up the spots on this list! 
Rebounderz
Rebounderz Sacramento is Sacramento's premier family entertainment facility. Rebounderz offers a variety of activities for those who want to develop fundamental skills to those looking for something more advanced, including trampoline jumping, basketball slam, and a challenging but fun Ninja Warrior Obstacle course. 
Your kids will love Rebounderz – it's the perfect spot to help kick those back-to-school blues! Rebounderz isn't just for kids either. Adults can also experience something unique and fun! They even offer a Parents' Night Out program where Rebounderz staff watches your kids for the evening, so parents can take some much-needed time off. 
Aside from the variety of activities and fun you and your kids can have, Rebounderz also offers a great membership program that can help you save money all while enjoying everything they have to offer. They also have a summer camp program to keep your children engaged and active. 
Activities Offered at Rebounderz Sacramento
Indoor Trampoline Arena

Toddler Trampoline Zone

Colorful Themed Climbing Walls

Air Pit

Basketball Slam

Extreme Dodgeball 

Spin Zone Bumper Cars

Junior/Floor Warrior Course

Multi Level Indoor Playground

Jump Xtreme Tower

Indoor Arcade

Summer Camps and Group Programs
Pricing 
Ultimate ticket:

For $34.99, you can enjoy all day admission to all of the great activities as well as 1 free 500-point arcade card, 1 free fresh popcorn and 1 free ice cold fountain drink.

Premium Ticket

: For $29.99, you can enjoy 2-hours of play time for all the activities.

Basic Ticket

: For $24.99, you can enjoy 1-hour of play time for all the activities. 
They also offer two membership options: $14.99/month for Basic, and $19.99/month for their ultimate unlimited.
Check out all of Rebounderz offerings!
Apple Hill
Located between Sacramento and Lake Tahoe, The Apple Hill area features world-famous family farms, award-winning ciders, and has everything from pumpkin patches to berry festivals. In addition to seasonal events, Apple Hill offers lodging, wedding venues, restaurants, golf courses, tree farms, breweries, wineries, and plenty of outdoor recreational activities. 
Pricing: Prices vary depending on the event you choose. 
Seaquest – Folsom
At SeaQuest Folsom, you have the opportunity to interact with animals from five different continents while exploring over 20,000 square feet of adventure. For an additional cost, you can purchase a variety of interactive experiences with animals like the Asian Otter, Baby Sloths, Crested Porcupines, the Wallaby, and Stingrays. Or, purchase an ultimate adventure bundle for $49.99. 
Pricing: 
Children (under 12)

: $11.99 

Adults (12 and up):

$16.99 

Age 55+, Military, and College students

: $14.99 

Annual Passport

: $39.99 
K1 Speed
K1 Speed offers an indoor go-kart racing experience with a museum-quality collection of authentic racing memorabilia, including signed race apparel and full-sized race cars. When you're not on the track, K1 Speed's Paddock Lounge offers video games in-between races, an arcade with pool tables and air hockey, and plasma screen televisions to keep up with every race. 
Pricing: 
1 race

: $25.95

2 races:

$46.95

3 races

: $59.95

Speedpass:

$64.99 (2 races, t-shirt, and membership) 

There are also varying prices for group packages
Cali Glo Indoor Entertainment

Cali Glo also offers18 holes of glow-in-the-dark mini golf all featuring California landmarks. If you're looking for some more fun after playing mini-golf, you can take on their glow-in-the-dark laser tag. Cali Glo has all of the glow-in-the-dark fun for all ages! 
Pricing: 
Glo golf:

$12.50 per person

Laser tag:

$20 per person
California State Railroad Museum
The California State Railroad Museum is a great place to explore and learn more about the unique railroad history of our country. The California State Railroad Museum offers a unique educational experience that's also quite enjoyable. 
Beyond learning about railroad history through all of the exhibits, the California State Railroad Museum also offers indoor and outdoor facility venues for private events large and small. It is definitely worth a rainy day visit to change things up a bit.
Pricing: 
Adults:

$12

Youth (ages 6-17):

$6

Children (ages 5 and under):

Free
Sacramento Pipeworks
Sacramento Pipeworks is a climbing and fitness gym located in Sacramento. From free weights and cardio equipment to rope walls and boulder walls there is something for everyone at Sacramento Pipeworks. 
Kids can learn to climb or continue to develop their climbing skills with classes offered on-site. You can also walk in at any time and purchase a day pass for some fitness fun.
Pricing: 
Day pass:

$30

Kids day pass (ages 12 and under):

$25

Early bird day pass

: $25
Art Beast
Art Beast Studio is for all the little artists and creatives out there. They offer camps, classes, and open studio play spaces for school-aged children.  With school back in session, Art Beast Studio may be a fun place to check out with your kids to get that creativity in high gear. 
Art Beast donates directly to Waking the Village which is a non-profit organization that leads programs for youth and children experiencing homelessness. It is a great way to have some fun and help support the community of Sacramento.
Pricing: Pricing isn't listed on their website. 
iFly Indoor Skydiving – Sacramento
iFly Indoor Skydiving is a fun and unique experience for children and their parents. Whether you've been skydiving before or would never dream of doing the real thing, iFly Indoor Skydiving can give you the simulated experience in a safe environment. They also offer birthday parties and private events.
Pricing: 
2 flights:

$84.99+

3 flights:

$109.99+
SET Gymnastics
SET Gymnastics is a gymnastics training gym in Sacramento. With a focus on gymnastics, they also offer fitness training, rock climbing, and cheerleading instruction. Children of all ages and skill levels are welcome. 
Pricing: Pricing is not listed on their website
Urban Air Trampoline and Adventure Park
Urban Air Trampoline & Adventure Park is an indoor trampoline park where kids can jump, climb and play. They also have organized dodgeball leagues on the weekends, laser mazes for different ages and skill levels, and mini golf and roller skating sessions for adults and kids alike!
Pricing:
Children under 5:

$11.99

Deluxe:

$20.99

Ultimate:

$26.99

Platinum:

$30.99
Enchambered: Sacramento Escape Room
Visiting an escape room is such a fun activity to do with friends and family. Designed for kids at age of nine and up, Enchambered offers adventure, challenge, and the thrill of being locked up in an escape room.
This type of family entertainment helps kids to be proactive, sharp-minded, and solution-oriented. Kids solve many mysteries, puzzles, and challenges to escape and become the heroes of the game. They need to piece the clues to find the way to open the door and escape the room.
Pricing: Pricing is dependent on the type of escape room experience. 
Sacramento Children's Museum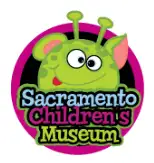 What is a great indoor place to take kids if it's not a children's museum? The Sacramento Children's Museum is designed to inspire children up to the age of eight to explore, discover and learn through interactive and immersive play.
Besides the exhibition, the museum offers experiments with balls in chutes to explore gravity, playing with pressurized tubes and artificial currents, painting, craft art activities, and other immersive exhibits.
Pricing:
Children under 1

: Free

Over 60 and military

: $6.00

Adults and all children over 1 year:

$8.50
Funderland Park's new "Fort Funhouse"
Conveniently located in William Land Park next to the Sacramento Zoo and Fairytale Town, you'll find Funderland Amusement Park . The park has been providing family fun and kid-sized thrills since 1946 with nine exciting amusement rides, a concession stand, birthday parties, and more. 
However, the park just recently opened the new "Fort Funhouse," a two-story jungle gym meant for children and adults. The attraction includes rope ladders, suspension bridges, and several long slides for people to enjoy.
Pricing: 
The Sacramento Zoo's new 'Cheetah Exhibit'
The Sacramento Zoo is an excellent opportunity for the family to have an educational and entertaining experience to connect with wildlife and nature. While the zoo itself has been open since 1927, an exciting new Cheetah exhibit features brothers Rowdy and Zig Zag. 
The glass panel for up-close viewing is an excellent opportunity for kids to get up close and personal with nature! The exhibit also features a behind-the-scenes area that takes guests on specially designed tours to learn more about the cheetahs.
Pricing 
Ticket prices

are roughly $10 to $20, but can vary daily. However, the price will never be lower for a particular day than is currently listed.
Hard Rock Live
Hard Rock Hotel & Casino Sacramento at Fire Mountain and Live Nation have partnered to open the new Hard Rock Live. This new state-of-the-art indoor concert venue occupies 65,000 square feet and will feature up to 2,500 seats or 3,000 occupants. A state-of-the-art audio-visual entertainment venue, the Hard Rock Live is a family destination for music, comedy and concerts. 
Pricing: Prices will vary per event. 
Sacminigolf
Sac Mini Golf is located in the basement of the historic Union Hotel in Old Sacramento. Enjoy a journey into the past with an Old Sacramento gold rush theme. There are hand-painted murals and scenes set up to tell the story of westward expansion in the mid-1800s.
There are 18 uniquely decorated holes to putt through. Cashless payments only!
Pricing: 
Children under 3:

Free (with paid adult)

Ages 3-12:

$10

Ages 13+

: $13

Replays:

$5
Smud Museum of Science and Curiosity
SMUD Museum of Science and Curiosity, or MOSAC, is the perfect place to bring the whole family for some thought-provoking, imagination-sparking fun. They have hands-on exhibits and programming to explore science, technology, math, engineering, and arts.
MOSAC can offer a day full of really diving into science and technology. They also have a planetarium and theater to sit back and explore space. For anyone interested in science, MOSAC will keep you engaged and having fun all day long.
Pricing: 
Toddlers (under 2):

Free

Youth (ages 2-17):

$12

Adults (ages 18+)

: $15

Seniors (ages 65+):

$13
Imagine Play
Imagine Play is a play space for younger kids to learn with one another. It's a lending library with age-appropriate toys to assist in learning, sensory exploration, and imagination.
Imagine Play offers open play times for anyone to come to in, as well as camps and after-school programs, and private birthday parties. 
Pricing: 
$13.50 per child + one adult per family, extra adults are $2.50 each

Babies under 1 are free if accompanied by a paid sibling, otherwise, the ticket price is $5
Crocker Art Museum
The Crocker Art Museum is a family-friendly spot to enjoy the world of art. After exploring the beautiful art exhibits you can bring the kids to Tot Land. Tot Land offers opportunities for creative play, sensory exploration, art making, and literacy development. 
Pricing: 
Military, Children (ages 5 and under)

: Free

Youth (ages 6-17)

: $8

Senior, College

: $10

Adult:

$15
Wacky Tacky
Wacky Tacky is designed for kids up to 17 years old. With a massive indoor playground, your kids will enjoy any rainy day spent at Wacky Tacky. It's also a good option for birthday parties or other kid parties. 
Pricing: 
1 child under 1 year and 1 adult:

Free

Ages 1-17:

$15
JasTag

JasTag offers laser tag, bumper cars, and an arcade for some serious family fun. With a huge facility covering almost 8,500 square feet over two stories, there is sure to be a full day of fun for everyone.
Pricing: $11.99 per person per game
Aerospace Museum of California
Take flight and learn about everything from military airplanes to space shuttles at the Aerospace Museum of California.  There are activity centers with building stations, crafts, and flight simulators. There is so much to learn that it's easy to spend an entire day going through everything.
Pricing: 
Active-duty military

: Free

Ages 4-17, Senior, Veteran:

$10

Ages 18+

: $15
Little Angels Play Town
Little Angels Play Town is designed for children up to age 10. It's a space to inspire your children to play, imagine, and explore. They offer plenty of toys and costumes to spark creativity. 
Kids will be in playtime heaven with a pretend grocery store, clinic, kitchen castle, and ball pit. Little Angel Play Town offers classes, free play time, and private parties.
Pricing: 
Just For Fun Art
Get your children's creative juices flowing at Just for Fun Art. With endless events and activities, it will be hard to get your kids to want to do anything else. Book your child's next birthday party at Just for Fun Art or just bring them in for some open studio craft time. 
They also offer adult paint parties for some kid-free fun.
Pricing: Pricing information is not available online. 
Free Things to Do for Kids and Families in Sacramento this month
In addition to those endless fun activities, here are some free activity options in Sacremento to try right now. 
McClatchy Park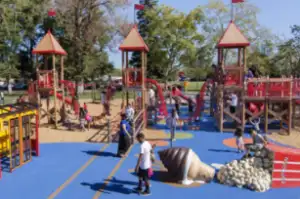 At McClatchy Park your children can enjoy the history of the park and a fun playground. Alongside the playground, explore the butterfly garden and other educational support about the local California nature. 
Farmers Market

Come down to Sacramento to experience the beauty of California farms. Farmers' markets are great to check out because they offer families a chance to be outdoors and explore local artisanal goods. Most farmer's markets offer activities for kids and even have live music for families to enjoy.  
Some farmer's markets in Sacramento include: 
Effie Yeaw Nature Center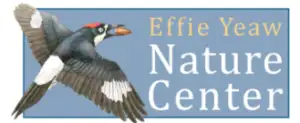 The Effie Yeaw Nature Center is a place for everyone to enjoy. From miles of hiking trails to a replica village of the Nisenan Maidu People, there is plenty to learn and explore at this natural site. Whether you're 6 or 60 there is a place for you at this nature center. 
Birdwatchers can explore and take in all the beauty nature has to offer here. 
Lake Natoma

Lake Natoma is a beautiful natural sight so much to see. This lake includes activities for all ages from picnics, to swimming, to fishing. The campgrounds are definitely a place to put on your camping bucket list. 
Children of all ages can learn about the beauty of nature in this pristine environment while you enjoy a little sunshine for yourself. With up to six miles of walking trails on this lake and open seven days a week from sunrise to sunset, this Lake is a great outdoor activity option in Sacramento you and your kids can enjoy for free. 
The Old Sacramento Schoolhouse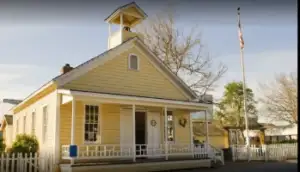 Let your kids explore and compare the vast differences between their own school and California State's early days of education at The Old Sacramento Schoolhouse. 
The building features the same design as the one-room Cannon Schools that were built in 1884 for students of Northern California. With no admission fee, the family is free to learn from various volunteers that will make the educational history of California come to life. 
This can be especially fun for kids who are entering school for the first time. It can really give them the opportunity to talk about their experiences and what it would have been back in the day!
McKinley Rose Garden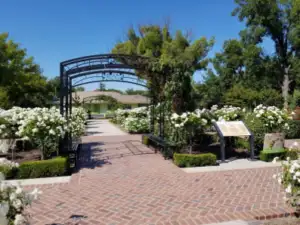 McKinley Rose Garden is another great place to go for a walk or jog because it offers plenty of green space without being too crowded by other people like some other parks might be during certain times of day/year, especially weekends. 
You'll be able to see lots of different types of plants growing around here too—which makes this spot perfect if you want something more educational.
Try the (Most) Fun Thing to Do in Sacramento This Month
Out of all the great activities options, Rebounderz Sacramento is a must-try because it offers so much at such an affordable price. You truly can't beat the value! 
On top of that, you'll find that there is genuinely something for everyone. For the more adventurous individual, the Jump Xtreme Tower and the Ninja Warrior Course is a great fit while the amazing indoor playground and indoor arcade is definitely worth experiencing.