Orlando is a city filled with family fun and entertainment. With its many theme parks and attractions, Orlando has become a top tourist destination for families looking to spend quality time together. And while there are many fun things for kids to do in Orlando, one activity that families should always consider is virtual reality (also known as VR for short). 
Orlando is one of the best places for virtual reality experiences because of its variety of attractions and sightseeing opportunities. There are many great spots in Orlando to take a break from your adventure and go on a new journey into virtual reality by yourself or with friends or family–plus you can avoid the Florida heat by having fun indoors! 
So venture out beyond Disney and the other theme parks to experience some of the best fun spots that offer a truly unique experience with VR! 

What is virtual reality (VR)? 
Virtual reality (often abbreviated as VR) is an artificial environment that's created with software and presented to the user in such a way that the user accepts it as a real environment. Through virtual reality, people can access, well, virtually anything in a creator's imagination. 
A person using virtual reality equipment is able to look around an artificial world, move around in it, and interact with virtual features or items. The effect is commonly created by VR headsets consisting of head-mounted goggles with a screen in front of the eyes or gloves fitted with sensors.
VR creates games that are very realistic and lifelike; after playing one might even say they were "too real!" As you walk around on your own two feet, every step takes place inside the game. When you turn to look behind you, everything moves just as it would in real life. The graphics are so good that sometimes it can be difficult to tell the difference between what's real and what's not!

What do virtual reality experiences include? 
VR offers a great opportunity to connect with friends and have a good time. It doesn't matter if you can't be together in person—all that matters is that you have access to a VR headset and are connected over the internet. 
The simulation makes it feel as though you're in the same place, only without having to grapple with traffic or crowds of people.
There are many VR games available for group play. Some examples:
"Keep Talking and Nobody Explodes" — One person wears the headset and attempts to defuse a bomb, while everyone else tries to help them figure out the instructions from written manuals on their computers or smartphones.

"The Under Presents" — A choose-your-own-adventure experience where players explore an underwater city and interact with each other using nonverbal communication.

"Gun Club VR" — Shoot your way through multiple firing ranges, test different guns in multiplayer mode, or try shooting competitively against others online.
Best Virtual Reality Centers in Orlando, FL
Rebounderz 

At Rebounderz you'll get to experience VR in the best way possible! Virtual Reality at Rebounderz is unparalleled to any other VR experience in Orlando, with over 300 games available to play you'll be able to fully immerse yourself in the best gaming experience.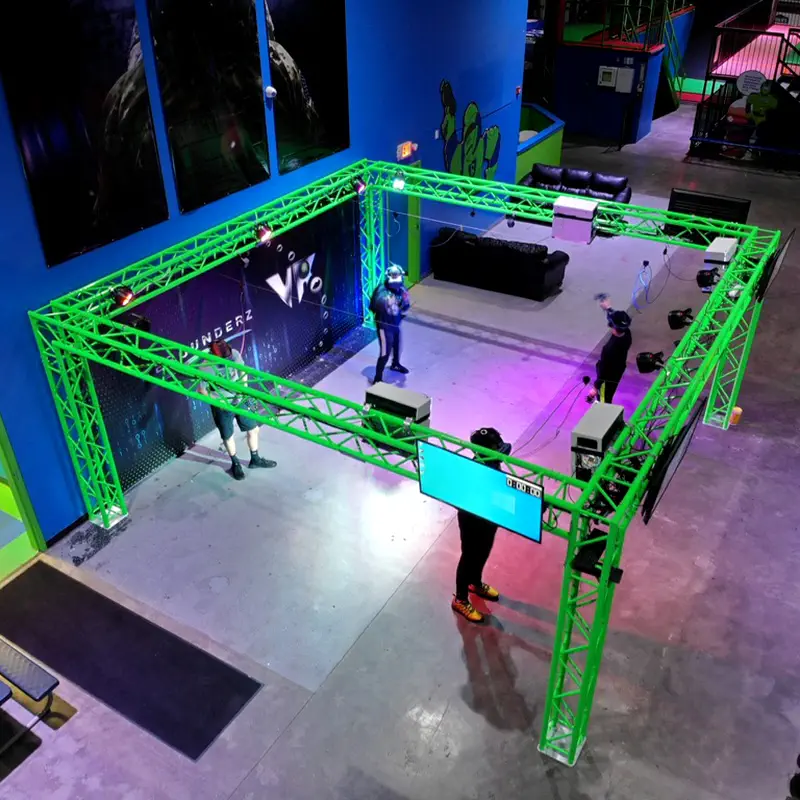 Have you ever bowled without being in a bowling alley or even picking up a bowling ball? Well at Rebounderz you can do that with their VR experience! Think you have what it takes to be a master "fruit ninja"? You can show off your slicing skills with VR Fruit Ninja! 
Check out all of Rebounderz affordable offerings today that your kids–and you–will enjoy! Plus, Rebounderz offers a "Parent's Night Out" option, where you can drop your kids off with them while you enjoy other parts of the city Orlando has to offer! 
Other Rebounderz Activities
Arcade

: For the gamers that find adventure in beating high scores and winning cool prizes! 

Trampolines

: Kids will enjoy jumping into cool poses, flipping, and bouncing around for hours. 

Trampoline Dodgeball

&

Basketball:

Give the classic kid's game and sport some extra bounce in these fun twists with trampolines!

Ninja Warrior

: An obstacle course with nets, ropes, and balls. You can even time your course in our competition add-on to any birthday party. The winner gets their photo on our wall AND the chance of winning a $100 gift card!

Air Pit and Foam Pit

: Enjoy playing and sinking in foam with this classic birthday party idea. 

XTreme Tower

: For those that just want to test their boundaries with a big jump.

Indoor Playground: Kids will play here for hours if they could, enjoying every component of Rebounderz jungle-gym! 

The Gauntlet Space Climb:

Kids can channel their inner monkey with this supported climb to new heights! 

Virtual Reality

: An active, exhilarating, and futuristic experience!

Themed Climbing Walls:

For kids that always felt dissatisfied with the playground climbing wall, our themed walls will satisfy every specific niche, from lego walls to buildings.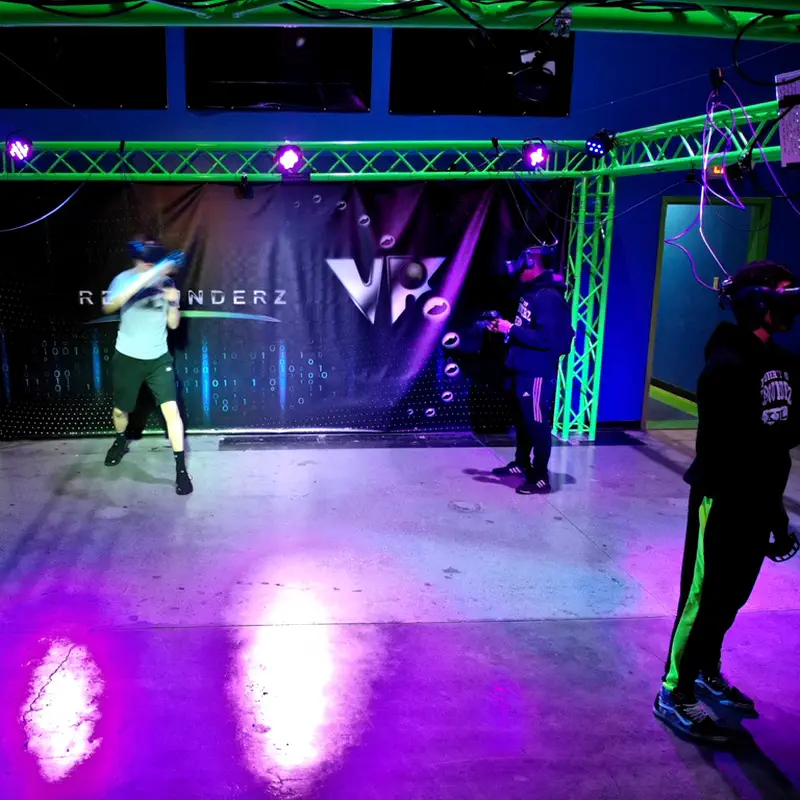 Pricing: For just $20, get an hour of access to Rebounderz arcade arena and indoor trampoline area, plus their ninja warrior course, indoor playground, and foam pit. Or, choose one of their other pricing options. 
Try Rebounderz Today!

Orlando's Best VR Escape Room at Funtania 

Funtania Family Fun Center brings a world of imagination to life with entertainment for everyone in mind.  Inside you'll find Funtania is divided into seven distinct sections that offer different experiences including several different VR experiences like VR rides and VR escape rooms.
VR Experiences
Shadows Manor

Gold Heist

VR Rides 

Battle Arena

Jungle Quest

Signal Lost

Alice

House of Fear

Survival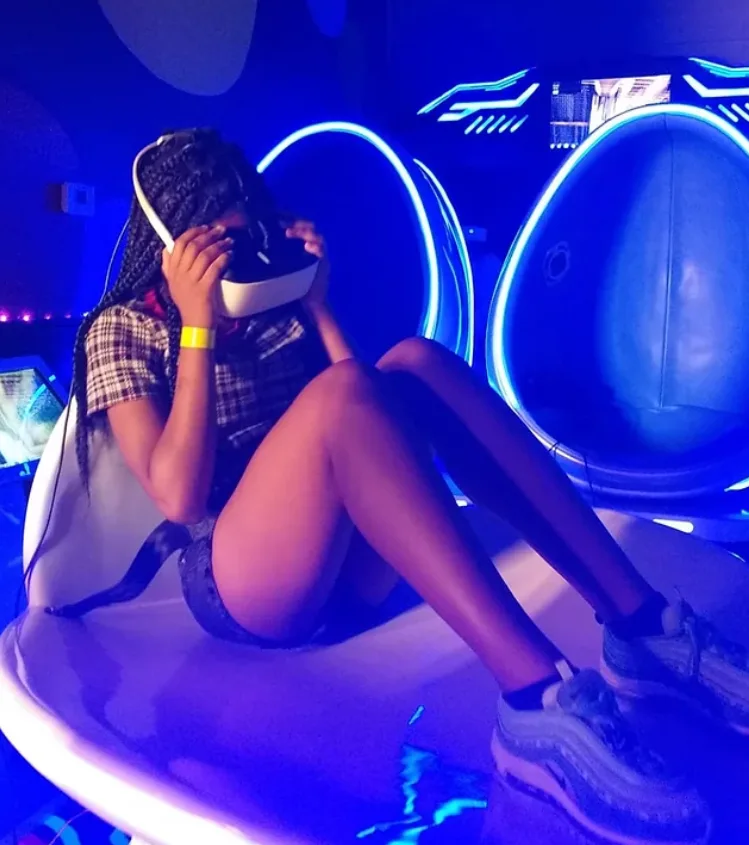 Other Activities
Arcade

Synthetic Ice Skating Rink

Real Life and Remote Escape Rooms

Bumper Cars

Virtual Reality

Toddler Play Area

Bounce House
Pricing
Main Event Orlando 

Located on International Drive in Pointe Orlando, Main Event Orlando offers a virtual reality experience as well as bowling, arcade games, and various other activities.  
VR Experiences
Some VR games available include: Beat Saber, Vader Immortal, Hologate, Virtual Rabbids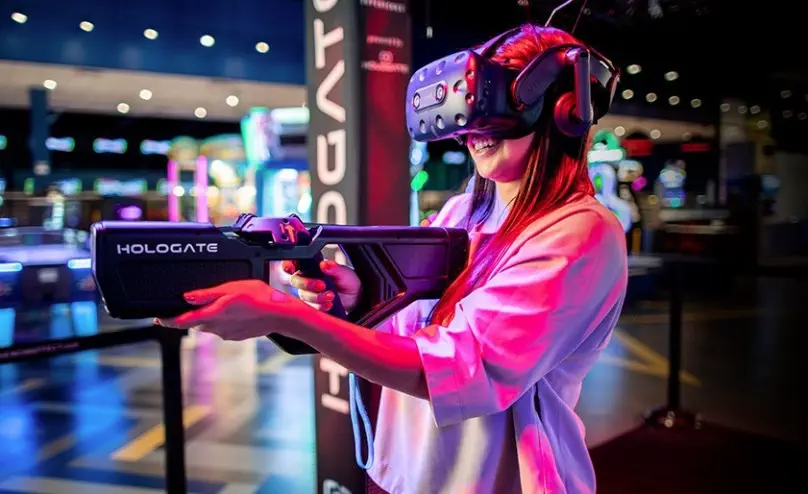 Other Activities
Arcade 

Bowling

Virtual Reality

Laser Tag

Billiards

Story Rooms

Mini Golf 

Gravity Ropes

Multiball
Pricing
The Escape Game Orlando

The Escape Room Orlando has an impressive portfolio with various escape room themes and storylines like The Heist: Bank Job, which is the most popular according to Trip Advisor. The group can participate in a robbery scene as they try to find evidence of their innocence. It's exciting, challenging and interactive.
A second extremely popular attraction at The Escape Room Orlando is virtual reality (VR). VR at The Escape Room Orlando is a bit different from other places because it can be done online via Zoom so it does not require the traditional headset equipment that VR generally uses. However, you are still able to be fully immersed in the game as a game guide walks you through a physical escape room with a live video feed.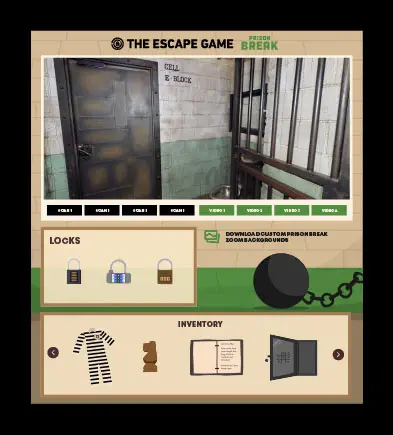 VR Experiences
Other Activities
Pricing
Andretti Indoor Karting and Games 

Located at 9299 Universal Blvd, Andretti Indoor Karting & Games is also home to a go-kart track and a variety of other entertainment offerings aside from VR. 
Andretti Indoor Karting and Games Orlando is inside the old Hollywood Plaza shopping center off I-Drive near Universal Studios Florida. It's 275,000 square feet of attractions like two floors full of arcade games, go-kart tracks, axe throwing ranges and bowling lanes—plus bar and lounge spaces along with a restaurant called Brick & Forge Pizzeria & Gastropub.
VR Experiences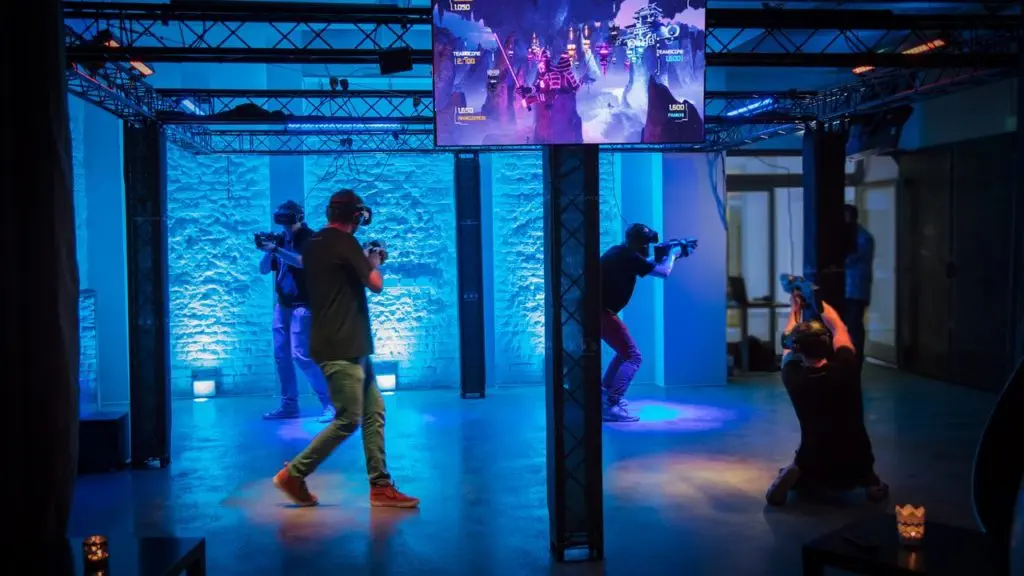 Other Activities
Pricing
In The Game ICON Park

You'll find In The Game inside the Wheelhouse at the iconic ICON Park in Orlando. You can get there from I-4 by taking the Sand Lake Road exit, turning onto International Drive, making a left turn onto Icon Parkway, and following the signs to the park. It is located on the second level of The Wheelhouse at ICON Orlando 360.
Here you'll find a collection of classic and newer arcade games with a variety of several VR games. 
VR Experiences
VR Rabbids

VR Moto

Box Blaster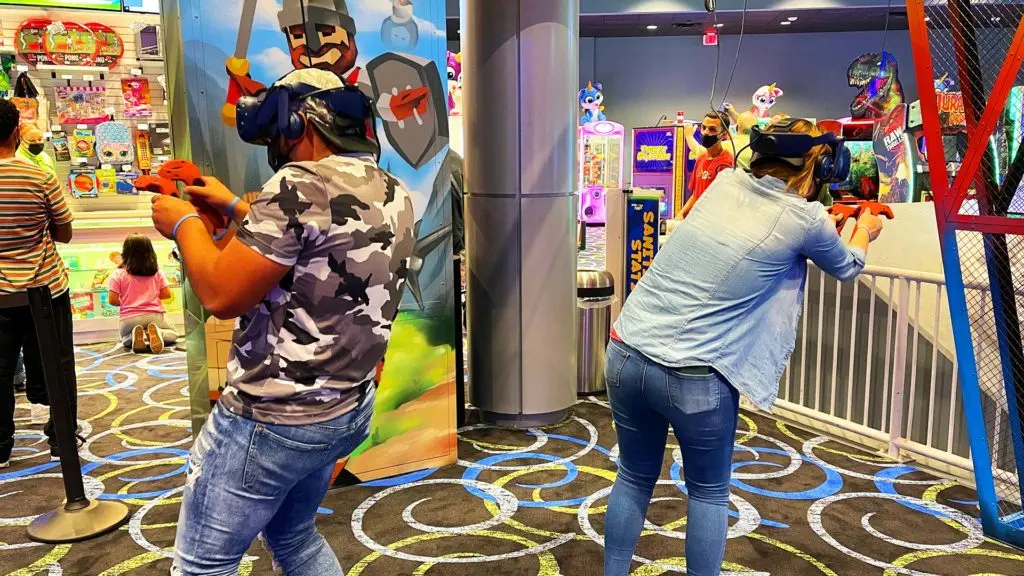 Other Activities
Arcade

Mirror Maze

Virtual Reality

X-D motion theater

Escape Room
Pricing
Legoland

The next time you visit Legoland Orlando, be sure to get the Virtual Reality Coaster. A roller coaster that takes you through a virtual world of Lego figures and structures, this ride will immerse you in a completely unique experience. 
The ride begins with a spiral slide from one end of the play area to the other, allowing riders to navigate their way through an array of scenarios like a slingshot launch down a mountain slope or street race against green minifigures on motorcycles. 
VR Experiences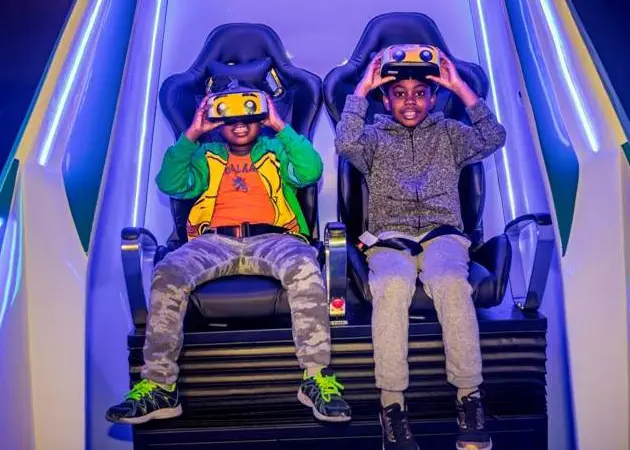 Other Activities
Pricing
Dave & Buster's 

Dave & Buster's is a popular chain franchise of video game arcades and family entertainment centers. With locations all over the US, Dave & Buster's offers guests an opportunity to enjoy food, drinks and games. 
One of Dave & Buster's most popular attractions was its original Virtuality Pod, which debuted in 2000 as one of the first virtual reality gaming systems ever installed in public businesses across North America—which means D&B introduced VR long before Oculus Rift came along and had everyone "oohing" over its next-gen technology. 
Dave & Buster's tested several different designs before settling on the pod, which has a small footprint and can easily be moved from one location to another based on customer demand. The pod also allows players to move around freely inside its walls without bumping into anything.
VR Experiences
Terminator

Vader Immortal

Star Trek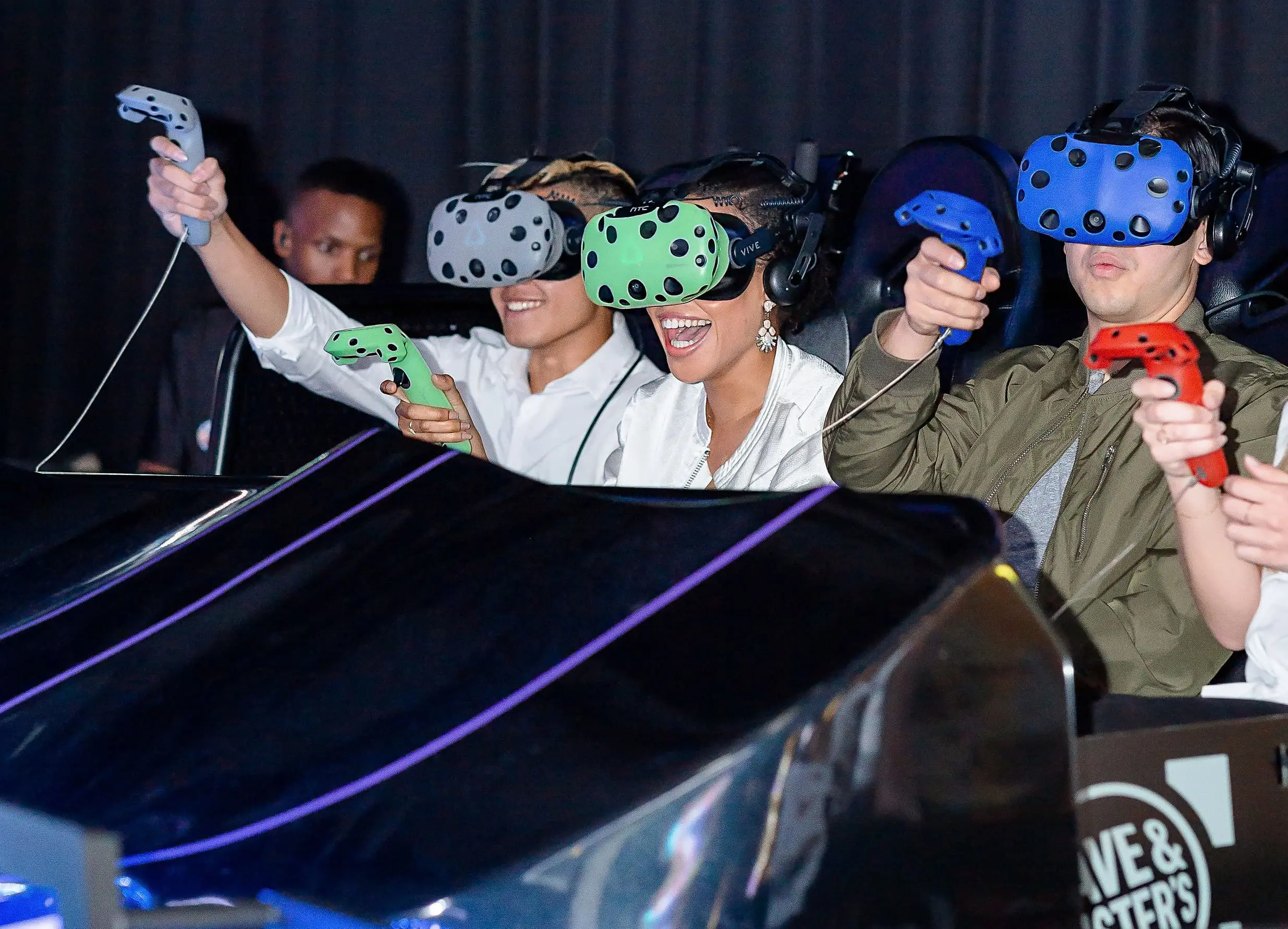 Other Activities
Arcade

Billiards

Bowling

Virtual Reality

Sports Bar
Pricing
Dave and Buster's pricing varies on the number of chips you buy, starting at 75 chips for $15, up to 750 chips for $100.
Journey II VR 

Journey II VR is located in Winter Haven, Florida, a quick 10 minute drive outside of Orlando. However, they're in the process of relocating and looking to revamp their VR gaming experience. In the meantime, they are still scheduling birthday party set ups or other party set ups. 
Journey II VR is a fully immersive VR experience, focusing solely on VR gaming.  If you're a fan of digital entertainment or are looking for family entertainment and fun,  you'll love Journey II VR!
VR Experiences
Elven Assassin

Fruit Ninja

Escape Bloody Mary

Good Goliath

Crisis Vrigade 1 and 2

Baam Squad 

Bleeding Hunt

Throw Anything

Angry Birds

Summer Funland

Counter Fight

Zombie Riot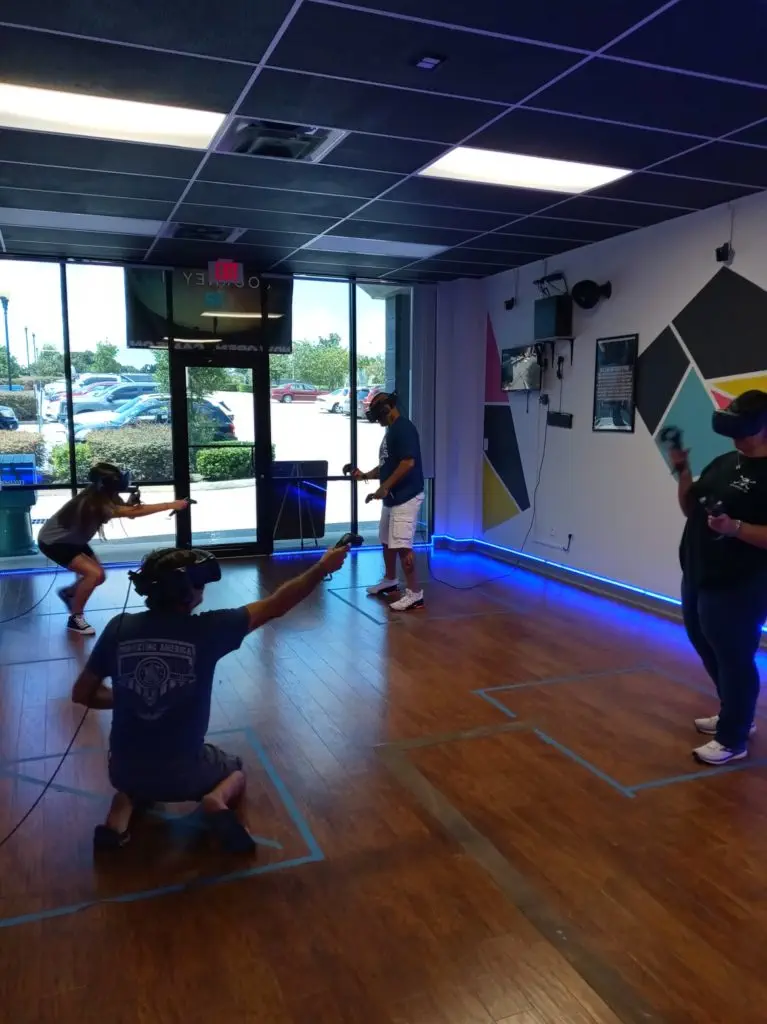 Other Activities
Pricing
Universal

Universal Studios Orlando is an amazing theme park with rides that use virtual reality. Guests will experience virtual reality as well as many other types of simulators and 4D/3D rides. The whole family can enjoy the rides together because they're thrilling while still being family-friendly.
Whether you're flying over mountains or swimming with dolphins, there's something for everyone at Universal Studios!
VR Experiences
Men in Black 

Revenge of the Mummy

Transformers the ride

The Simpsons

Shrek 4D

Race through New York with Jimmy Fallon

Harry Potter and the Escape From Gringotts

Despicable Me Minion Mayhem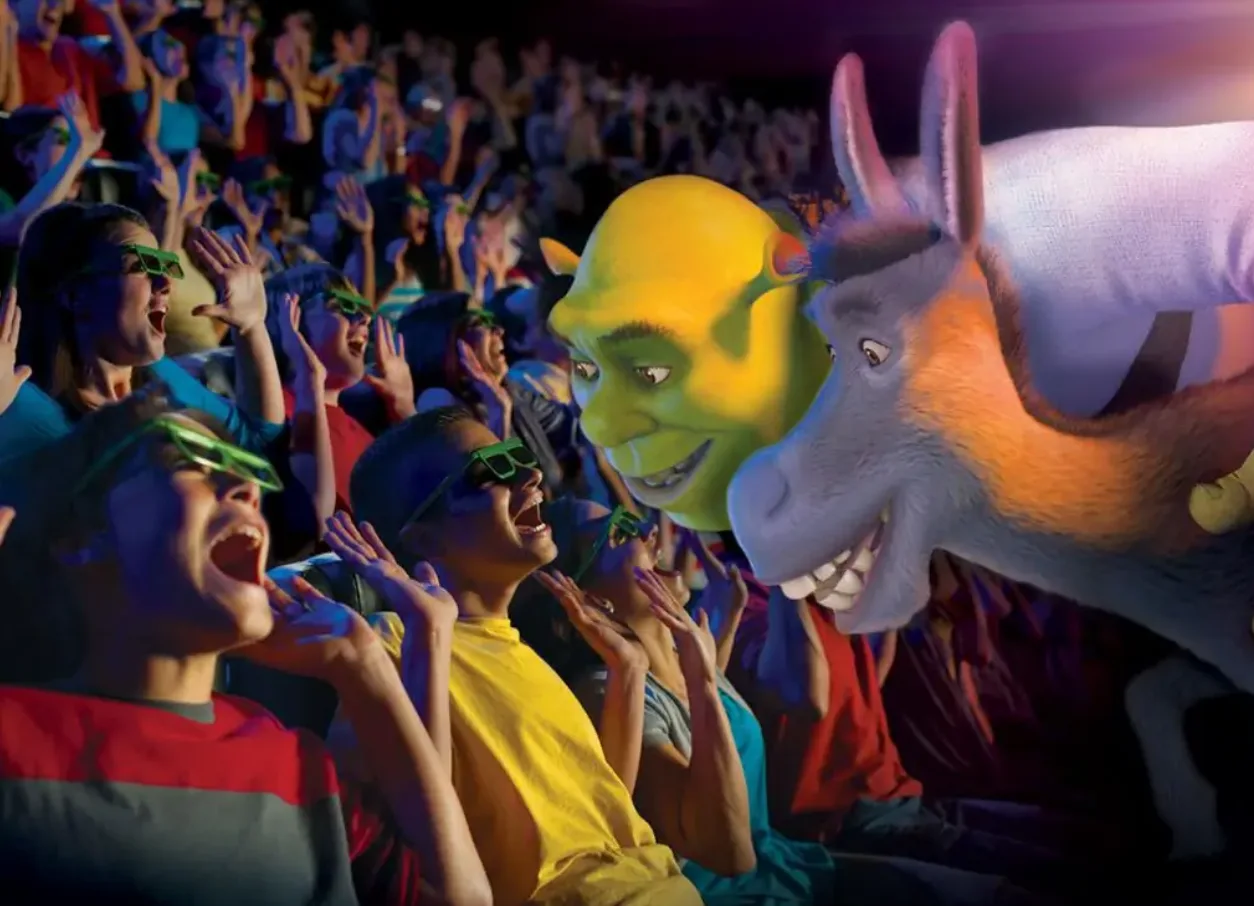 Other Activities
Traditional theme park rides like roller coasters

The Wizarding World of Harry Potter 

Seuss Landing

Skull Island

Toon Lagoon

Marvel Super Hero Island

Jurassic Park

Woody Woodpecker KidZone

World Expo
Pricing
iFLY Orlando

Thanks to iFly Orlando's new virtual reality experiences, visitors looking for a new way to experience flight won't have to travel far. Located in Central Florida, the facility is home to one of the world's largest indoor skydiving facilities.
iFly Orlando, an indoor skydiving experience that uses a vertical wind tunnel to simulate free-fall conditions, as well as introducing virtual reality technology within skydiving simulations. The addition has allowed guests who are interested in experiencing both flight and virtual reality technology firsthand. 
Visitors at iFly Orlando can also enjoy a ride on its patented Magic Flight, which takes passengers up 200 feet above ground and simulates weightlessness with a 90-foot drop.
VR Experiences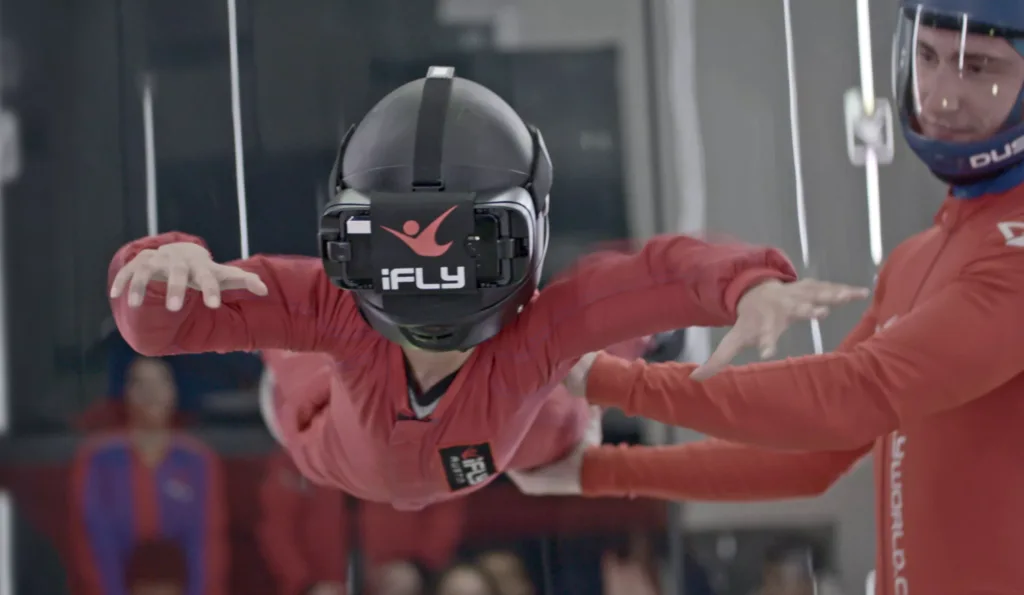 Other Activities
Pricing
Conclusion: What is the best virtual reality experience in Orlando?
If you're looking for something at a unique, indoor venue in Orlando, Florida, then you need to try out virtual reality experiences. 
In these interactive spaces, you don't just play the game—you're in it. You'll be able to see and hear all the action right in front of you, with a 360-degree view of the virtual world and a full-body tracking system that will make you feel like you're really a part of it.
Rebounderz offers you the chance to take on the VR realm but also lets you experience some of the best indoor activities to keep you having fun for hours! If you need a break from exploring a new world, you can hop on over to the trampoline arena and show off your best flips or challenge your friends to the ultimate basketball game with a twist!