If you live in Northern California, you know that Sacramento is one of the best places to be. Sacramento offers plenty of things to do with the family. One of those things is trampoline parks!
Kids love playing on trampolines. Sometimes as parents, having kids being able to take a break from their screens and get some real exercise outside or even inside is important. 
Trampoline parks are a great way to challenge your body and have fun. They're also one of the best ways to get some exercise and enjoy time with your family. If you live in Sacramento, CA, you'll definitely want to check out all the best trampoline parks in the area. 
Benefits of trampolines 
A trampoline park is an indoor facility that has trampolines, foam pits, and other gymnastic equipment. Most of them have a large open space for jumping and flipping. Trampoline parks are popular among kids during their free time, but adults can enjoy them as well too!
A trampoline park is a fun and healthy way to bond with your friends or family. The benefits of jumping on a trampoline include:
Kids can burn off energy and get physical activity into their day while having fun with friends or family members.

Improving your flexibility, reducing soreness after workouts by increasing blood flow throughout the body.

Socialization with other parents and children at the trampoline parks.

Increasing your core strength and balance, which can help reduce back pain and spinal injuries.

Increasing cardiovascular health through increased heart rate, respiration levels and circulation of oxygenated blood throughout the body.
So where can you get all those benefits? Let's take a look! 
Best Indoor
Trampoline Parks
in
Sacramento
Rebounderz Sacramento
Rebounderz Sacramento is Sacramento's premier family entertainment facility and the ultimate trampoline park! Rebounderz offers a variety of activities including trampoline jumping, basketball slam, and a challenging (but fun) Ninja Warrior Obstacle course. 
As a trampoline park, Rebounderz offers some of the best trampoline based activities out there! Their trampoline arena is truly impressive and kids of all ages will love being able to bounce, jump and flip on their floor AND wall trampolines! 
The whole family can take part in activities, from toddlers to adults. Rebounderz offers a great membership program that can help you save money all while enjoying everything they have to offer. They also have a terrific summer camp program to keep your children engaged and active. 
And let's not forget their parents night out, so kids can continue to have fun while parents can take some much needed time to enjoy themselves with the peace of mind that their kids are taken care of!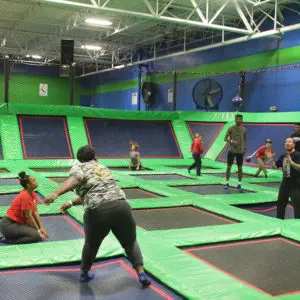 Activities Offered at Rebounderz Sacramento
Indoor Trampoline Arena

Toddler Trampoline Zone

Colorful Themed Climbing Walls

Air Pit

Basketball Slam

Extreme Dodgeball 

Spin Zone Bumper Cars

Junior/Floor Warrior Course

Multi Level Indoor Playground

Jump Xtreme Tower

Indoor Arcade

Birthday Parties

Summer Camps and Group Programs
Pricing 
Ultimate ticket

: For $34.99 you can enjoy all-day admission to all of the activities offered at Rebounderz Sacramento. This ticket also includes one 500-point arcade card, one free fresh popcorn, and one free ice cold fountain drink.

Premium Ticket

: For $29.99 you can enjoy two hours of all the activities offered. 

Basic Ticket

: For $24.99 you can enjoy one hour of all the activities offered. 
Or, they offer two membership options: $14.99/month for Basic, and $19.99/month for their ultimate unlimited.
Check out all Rebounderz offerings!
Rockin' Jump
You'll find Rockin' Jump outside of Sacramento in Elk Grove. Rockin' Jump focuses on healthy movement and activity. It moves away from the traditional "gym" workout with jump arenas and dodgeball.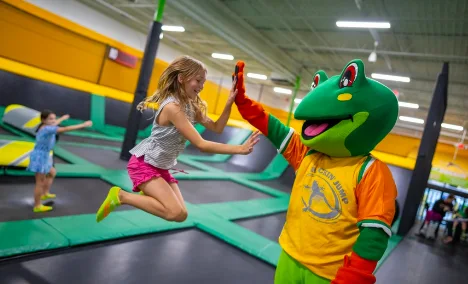 Activities Offered: 
Trampoline arena

Dodgeball arena

Slam dunk zone

X-Beam

Stunt bag arena

Vertigo climbing
Pricing: 
60 minute jump time:

$18

90 minute jump time

: $22

120 minute jump time:

$24
Urban Air
Urban Air Trampoline & Adventure Park is an indoor trampoline park where kids can jump, climb and play. They also have organized dodgeball leagues on the weekends, laser mazes for different ages and skill levels, mini golf and roller skating sessions for adults and kids alike.
Urban Air offers diverse activities to keep your kids occupied all day long such as bumper cars, virtual reality games, climber wall, sky rider, and more.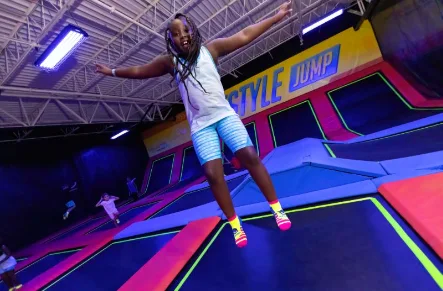 Activities Offered: 
Battle beam

Adventure hub

Climbing walls

Dodgeball

Dropzone

Rope course

Tumble track

Sky rider

Slam dunk zone

Bumper cars

Warrior course
Pricing: 
Deluxe

: $20.99

Ultimate:

$26.99

Platinum

: $30.99

Children under 5

: $11.99
Defy
Defy is an extreme air sports park with stunt falls, zip lines, and wall trampolines. It's designed to be a collection of extreme air sports that are rewriting the rules of sport to give communities a place where they're free to express and push themselves. Defy's ninja obstacle course is both challenging and fun for those ready to put their ninja skills to the test.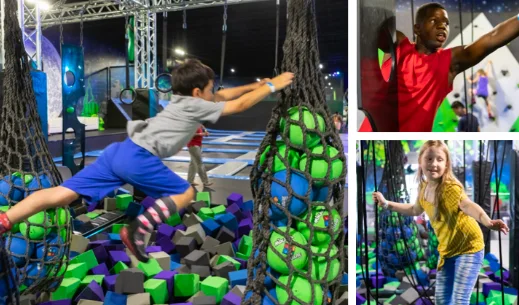 Activities Offered: 
Basketball

Extreme dodgeball

Battle beams

High-end air track

Stunt fall

Zipline

Wall tramp

Trapeze and aerial silk

Parkour

Open jump
Pricing: 
Weekday passes:

$24.99 for 90 min / $29.99 all day

Weekend passes:

$24.99 for 90 min / $34.99 all day

Weekday 4 & under:

$18.99 for 90 min / $22.99 all day

Weekend 4 & under:

$18.99 for 90 min / $26.99 all day
Additional Jumping Locations
The following places aren't necessarily trampoline parks, but you can still get your jump on and have some fun! 
Bounce U

Bounce U is an indoor inflatable bounce arena. It's primarily a Sacramento birthday party venue but does offer a few family activities, like an Open Bounce night and a parents night out. There are various events available to check out online for more event details! 
Activities offered:
Pricing: Pricing is not available on their website.
SET Gymnastics
SET Gymnastics is a gymnastics training gym in Sacramento. With a focus on gymnastics, they also offer fitness training, rock climbing, and cheerleading instruction. While a step away from a trampoline park, SET Gymnastics offers children the opportunity to be active and learn some cool flips and other gymnastic skills that can be seen at a trampoline park.
Pricing: Pricing is not listed on their website
JasTag

JasTag is a laser tag facility in the Sacramento area. And while you can enjoy a challenge round of laser tag, there are a few other activities available to partake in as well. There is a small trampoline area, as well as climbing nets and walls and a ball pit to show off some more jumping skills.
Activities:
Laser tag

Trampolines 

Ball put

Swings and slides

Playground

Rock climbing
Pricing: 
Fun in the jungle:

$15 per person all day for playground area that includes trampolines 

Laser tag:

Mon-Thurs: $11.99/person/game, Fri-Sun: $12.99/person/game

Laser maze:

$6.99/person

Bumper cars:

$7.99/person for 5 minutes
Enjoy the Best
Sacramento
Trampoline Park
Trampoline parks are the ultimate family-friendly activity. They're social, promote healthy physical activity, and are a great way to have some fun. One of the best parts of a trampoline park is that the majority of them are indoors, which gives kids a place to have fun without worrying about weather changes. Plus, parents have peace of mind that their kids play in a safe environment. 
While Sacramento has a few options when it comes to trampoline parks, it's easy to see why Rebounderz is the premier trampoline park with the number of activities available and the affordable price. It's great value for everything they offer! 
No matter your kid's age, there's something for everyone in your family. To a designated toddler trampoline area to something more challenging like the rock climbing area, Rebounderz has you covered!